Programme
When: 26-30 August 2019
Where: University of Bern, Switzerland
One Health BSc/MSc Summer School - Programme 2019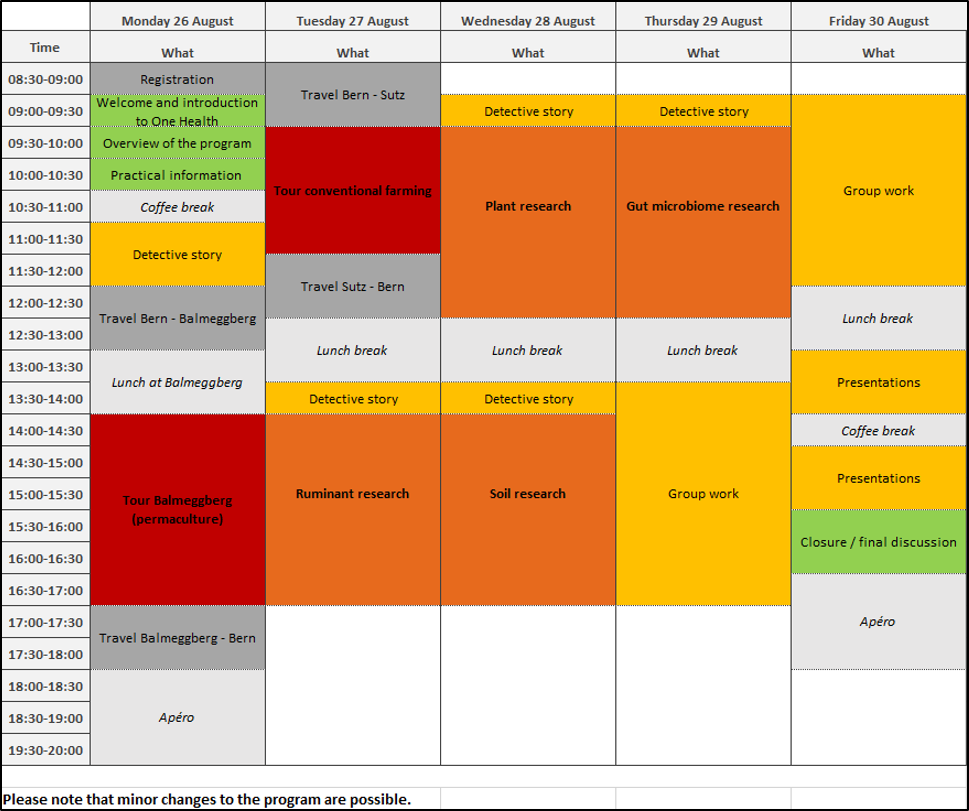 Bachelor Summer School Programme
Explore.
Experience health connections along the food chain in Switzerland
To explore connections between plant, animal and human health, participants will visit different food production systems in Switzerland, ranging from conventional to alternative permaculture. These visits are an excellent opportunity to discover Switzerland and learn about management strategies that promote healthy agroecosystems.
Learn.
Get first-hand experience in cutting edge interdisciplinary research
The students will have the opportunity to connect with scientists working along the food chain, from soils to plants, to ruminants and humans. World-leading scientists together with their research teams will introduce the students to their work and efforts to promote healthy food chains. Visits will include presentations as well as visits and hands-on experience in different laboratories of the University of Bern.
Challenge yourself.
Develop your own solutions for important one-health challenges
In small teams, the students will be given a challenge that they can work on solving, during the summer school. Each challenge evolves around an interdisciplinary problem, and the teams can use the excursions and lab visits to gather ideas on how to tackle it. Become a one health detective and combine your own knowledge, creativity and team spirit to find creative solutions to some of the most pressing problems of humanity. During the last day of the school, the teams will present their solutions to each other.
Have fun!
The summer school offers many opportunities to explore Switzerland and the city of Bern, to socialize with participants from all over the world and to meet one health scientists in an informal, friendly setting.